A Conversation with Artist Toni Silber-Delerive
Dec 28, 2016
Toni Silber-Delerive presents a collection of her original acrylic paintings in our gallery. We recently spoke with her about her approach as an artist.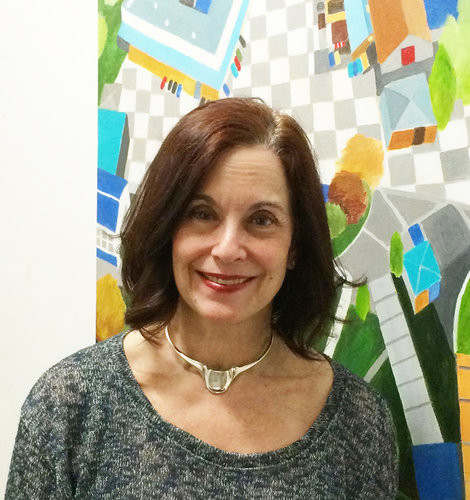 Artist Toni Silber-Delerive. Learn more on her Studio Visit page.
Looking back, what influences do you believe led to the art you are currently making?
After studying painting in college, my career in graphic design drove me to looking at the world through abstract shapes and colors. When I returned to full-time painting, that professional experience influenced my work.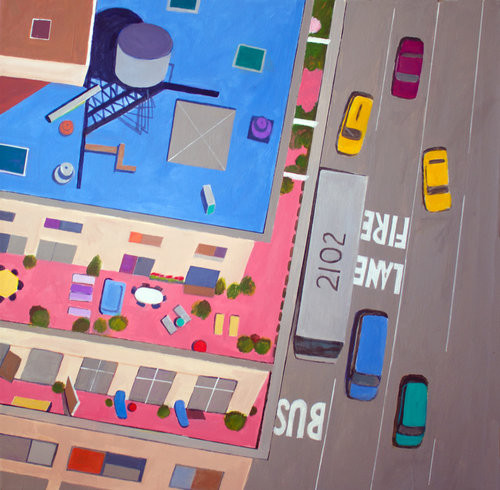 "NYC Summer Terraces" acrylic on gallery wrapped canvas, 30" x 30"
In my paintings, I strive to interpret the world we live in and incite viewers to see it from a different perspective. I attempt to tell my narrative while retaining the character of the location, using a personal perspective to develop a graphic visual vocabulary. I want my paintings to be more than just a recording of the contemporary landscape. I want them to express my interpretation and vision.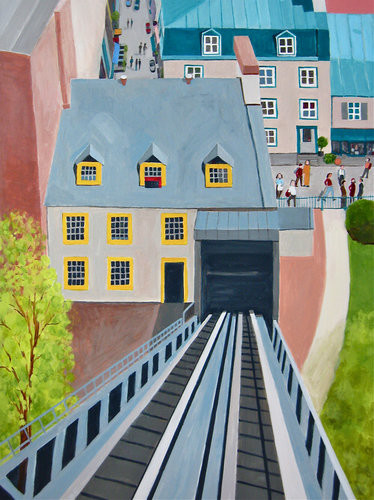 "Funicular, Quebec City" acrylic on gallery-wrapped canvas, 30" x 40"
What fascinates you about the aerial view?
Different from traditional landscape perspective, but still full of realism, views from above allow me to combine elements of abstraction and representation, pattern and grid, surface and illusion, as well as observation and imagination. My work can be understood on many levels, from the simple interplay of shapes and colors to the narrative of the pictorial story.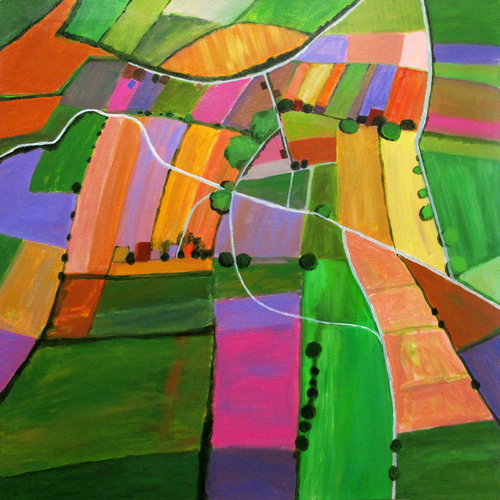 "Open Field Cultivation" acrylic on gallery wrapped canvas, 30" x 30"
I believe that my raison d'être as an artist is to share my vision of the world. I want my aerialscapes to be a commentary on our lifestyles and environment, a collection of urban and suburban way of life as well as a representation of the natural and industrial worlds. I will be satisfied if my paintings encourage people to step back and see our world as affected by man in a different light.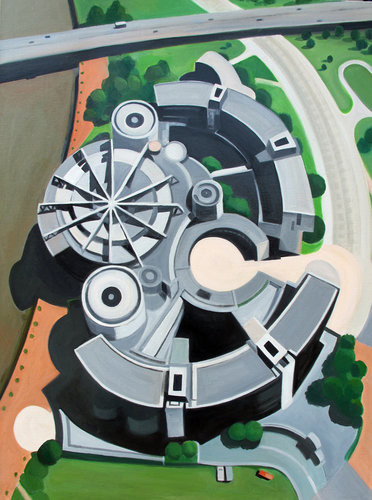 "Dusseldorf, Germany" acrylic on gallery-wrapped canvas, 36" x 48"
Many of your paintings focus on urban areas. How did you choose these, and why?
The thread running through my urban aerialscapes is our variegated planet seen from the air. Whether seen from a helicopter or the top of a building, my paintings reflect the world around me and tell a story about their environment.
While much of my inspiration comes from specific locations, many are not well known but rather I want to leave room for the viewer's imagination, thus allowing the painting to speak to each individual in a different way.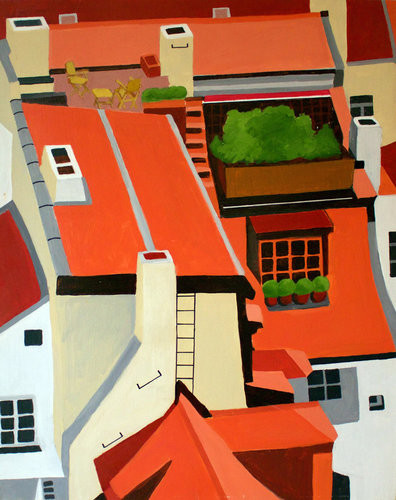 "Czech Republic Rooftops" acrylic on gallery-wrapped canvas, 24" x 30"
The flattened surface plane reveals tenuous textures and unexpected abstract spaces. Depth becomes minimal and details less predictable while retaining the essence of the subject.
.
Join our Mailing List for More Inspired Ideas!