A Conversation with Artist Leslie Kell
Jul 14, 2016
The artist's new direction began with a life transition.
"A few years back, when the bottom fell out of the economy, my graphic design business slowed down," Kell says, "And with a little time on my hands, I looked around and thought, what I am going to do with my creative energies?"
"No Simple Highway" by Artist Leslie Kell - See it Here
"My studio was full of computer equipment, my paints were packed...but I had a camera, a mac and 20 years of Photoshop under my belt," she explains. "I started thinking about several book covers I had done years earlier, and wondered what would happen if I did a couple and printed them on large canvases."
She explains her technique in steps.
As with most creative processes, Kell's work starts in the sketchbook. She says, "After I get the idea out of my head and onto solid ground, I move to the computer. I create a line drawing in Adobe Illustrator that serves as the base design for the piece."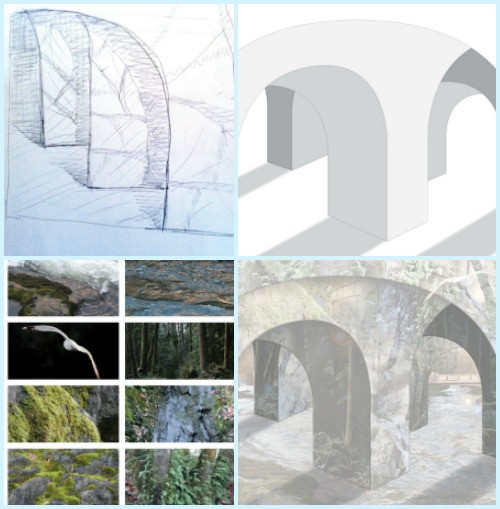 She then starts selecting images to fill the spaces. "I usually have some idea of the theme of the photos," she explains. I can go to my library of over 10,000 images that I've taken over the years and start culling out what I want to use."
Photos are chosen not only on theme, subject matter, and location, but also for color, texture, value, and design. She especially loves to use images that have reflective qualities, such as water, prisms, and sun rays.
At this point, she moves the drawing to Photoshop, and starts placing photos, using layering effects into the spaces of the drawing. Kell may work on 3 or 4 pieces at a time, going back and forth between them discovering what works.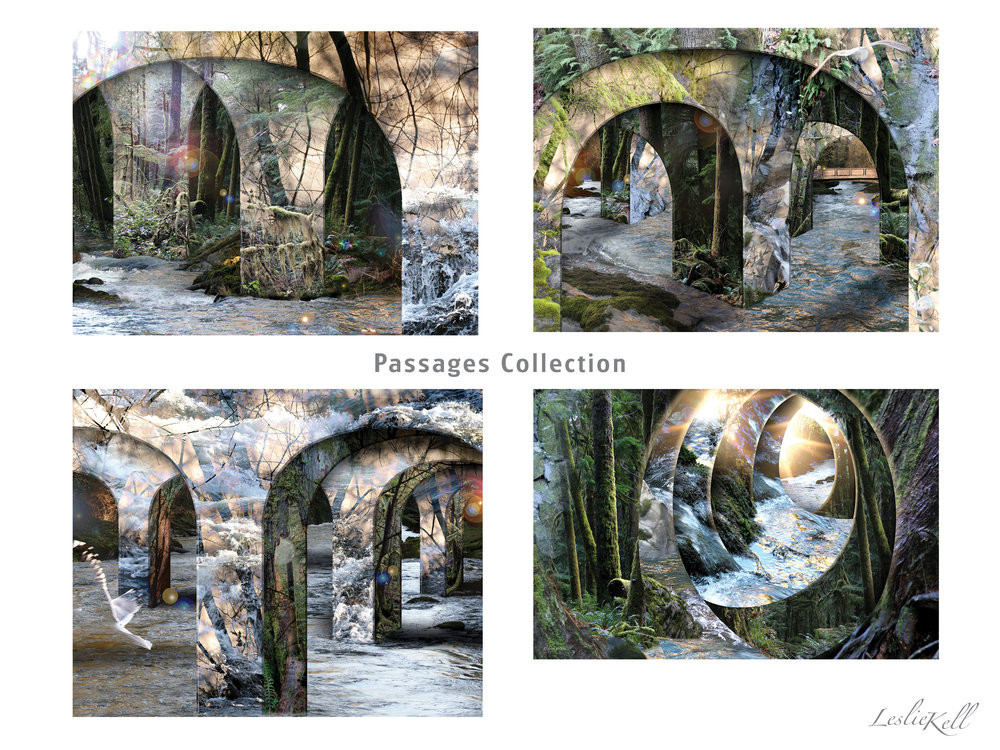 The finished designs are grouped into a collection. Her Passages Collection is shown above. Once the digital aspect of the work is completed, she sends the file to a fine art printer and has the canvas printed.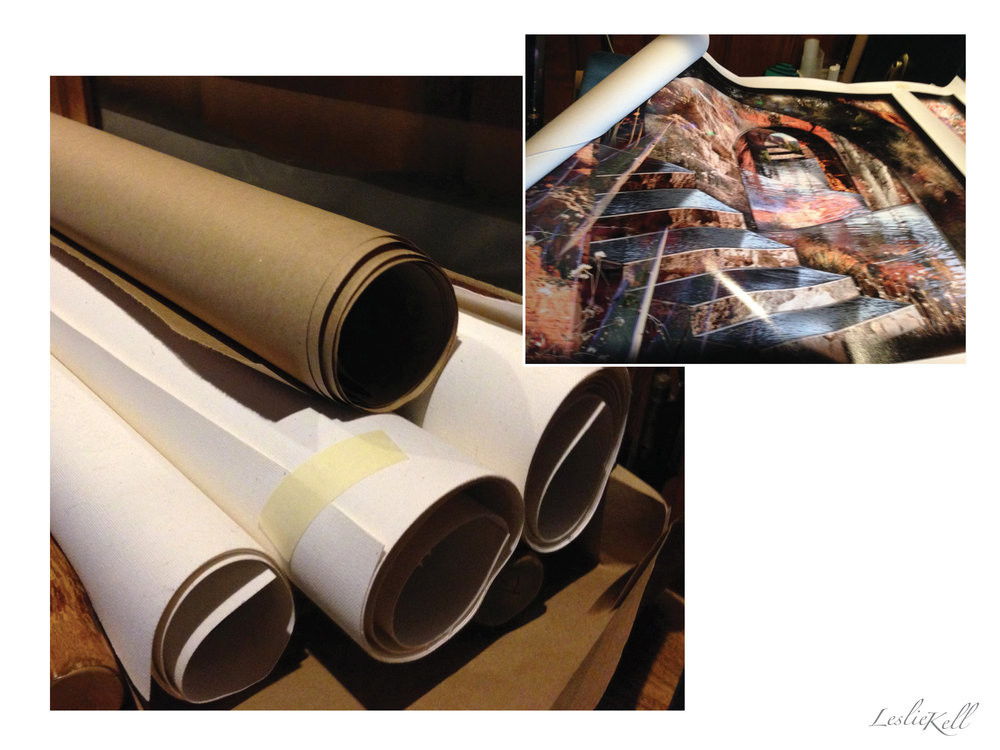 In the meantime, she is designing the enhancements that "frame" the piece, with the help of her husband. "I only use heavy duty stretcher bars and custom build the braces," she states. "The framing can be quite heavy and needs to be as sturdy as possible."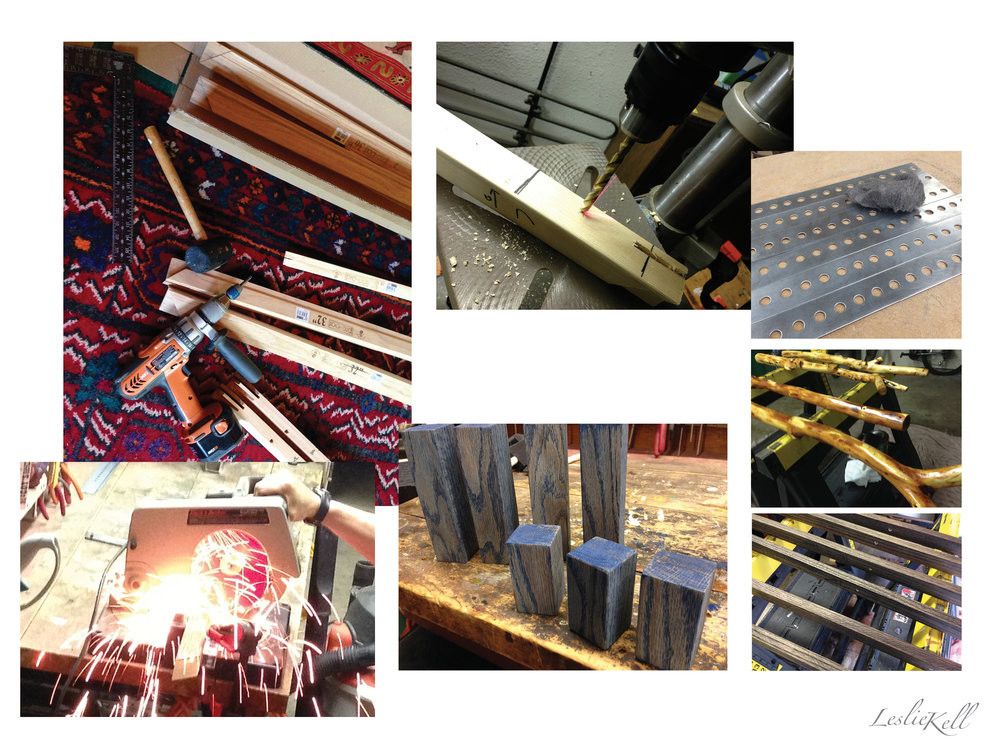 All holes are pre-drilled into the bars before stretching. It all has to be planned out and engineered precisely to fit together right, especially since assembly happens after the canvas is stretched.
"After all that precision and concentration, I feel the need to introduce some unpredictability and movement to the composition," Kell adds. "So I add paint splatters and texture. There is something about the use of spontaneous paint that is in contrast with the obsessive precision of the process. It helps to complete the transition of what was in the digital space into the real world."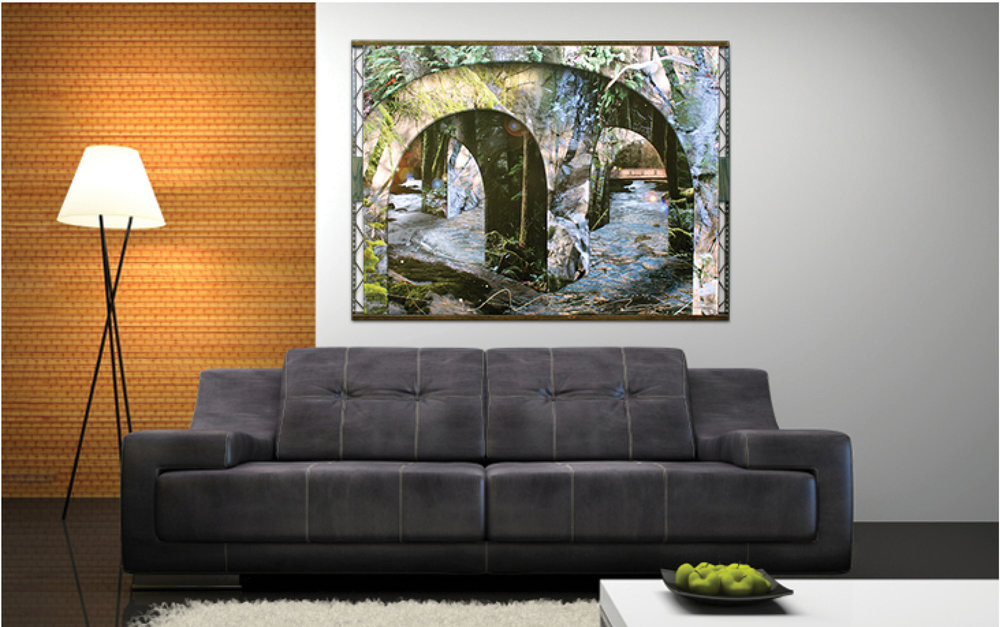 When the enhanced framing is installed to finish the piece, it is finally ready to be hung on the wall. Kell says,"My hope is that is reaches beyond the canvas with a sculptural presence as well."
Visit Leslie Kell's collection of work here
Join our mailing list for more inspired ideas!